Border British Blue Club 31st Annual Spring Show & Sale at Carlisle
British Blue cattle were in demand at the Border British Blue Club show and sale at Harrison and Hetherington's Borderway centre at Carlisle on Friday and Saturday, 13 and 14 May 2022.
While prices may not have reached the record-breaking highs of 30,000gns and 27,000gns seen at the 2021 sale, which added £686 to the 2021 average, bulls sold away well with no fewer than nine selling for five-figure prices. Females were in particular demand, meeting a 92% clearance, with three selling at five-figure prices to surpass the 2021 sale leaders.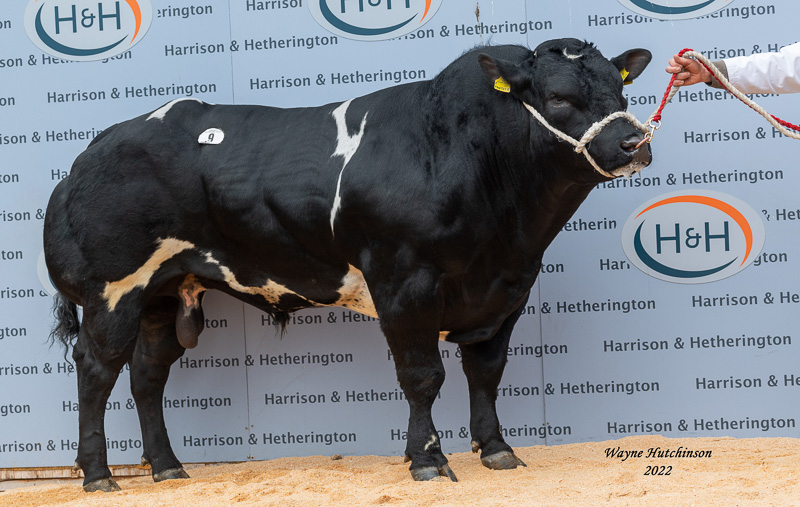 Brennan Panther - 18,000gns
Heading up the entry at 18,000gns early on in the sale was the second prize bull from the very first class, Brennand Panther from Jeff and Margaret Walker, from near Dunsop Bridge, Clitheroe. This upstanding mostly black bull which tipped the scales at 1076kg, is the result of a flush between the renowned Cromwell Fendt and Brennand Mandy, a Tweeddale Ebony daughter and full sister to the 10,000gns Brennand Nugget that topped the January 2020 sale.
Born in March, 2020, Panther caught the eye of Philip Halhead and joins the Norbreck Genetics team near Cockerham, Lancashire.
Commenting on his purchase, Mr Halhead said: "There were a couple of factors behind our purchase – his pedigree is very exciting in that Cromwell Fendt, which we bought privately from the Neachells, was an amazing commercial success for us and the pedigree breeders really took well to him too.
"Panther very much suits the UK and Irish market but there's a real buoyancy in the export market just now and we hope to export him round the world.
"On the day, he was one of the bulls that had the real jet black colour that is important, but also had great power and length but was mobile and stylish with it too. He's also got great plates and the width needed for producing commercial show calves," added Mr Halhead.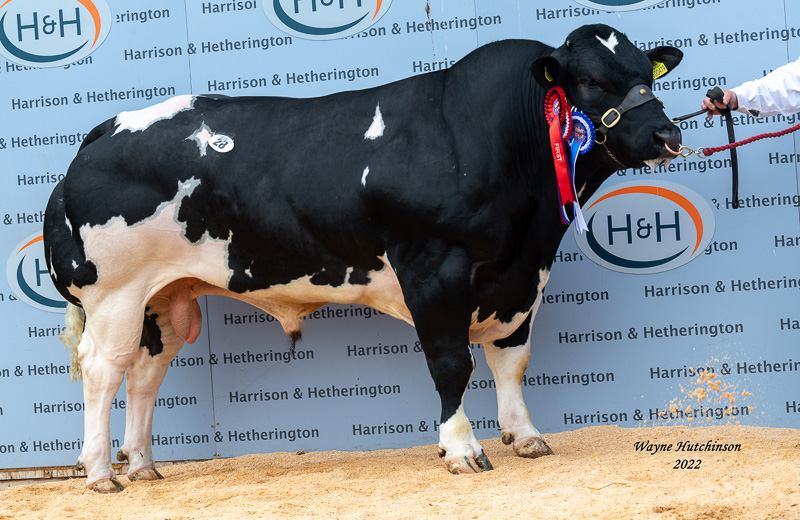 Netherwood Pablo - Senior Champion - 14,000gns
Sticking with the male entry and next in the trade stakes at 14,000gns was the Reserve Male Champion from Andrew Woodburn, Muirkirk, Ayrshire. Netherwood Pablo, another mostly black bull which also secured the Senior Championship, was born in April, 2021, out of Netherwood Kylie, herself by Colos Van Daisel. Sired by Solway View Firecracker, Pablo was knocked down to the breeders of the record-holding 30,00gns Gass Okay sold last year, the Kay family from Straiton, Maybole, Ayrshire.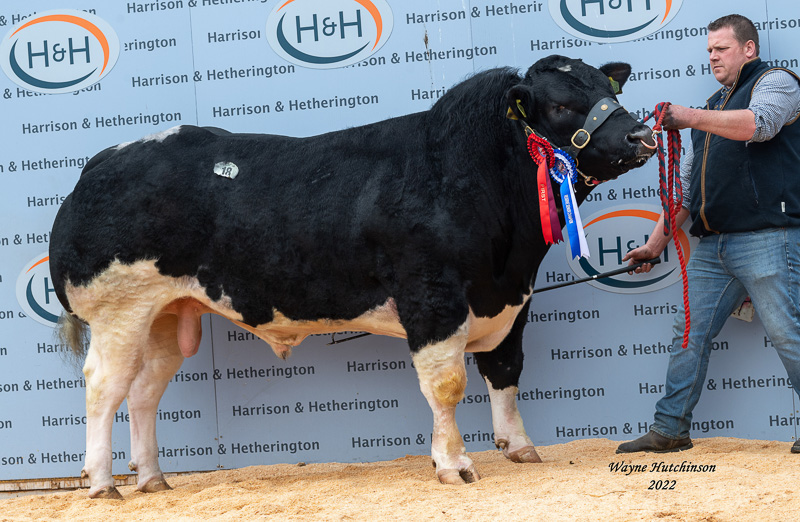 Aultmore Powerhouse - Reserve Senior Champion - 10,500gns
Two sold for 10,500gns apiece including Garry Patterson's Aultmore Powerhouse, which stood Reserve Senior at the pre-sale show. Selling to Murray Stevenson, Dailly, Girvan, Ayrshire, this son of Blak Du Baty D'Eprave was born in March, 2020, out of the Hazelwood Freshman-sired Droit Jessie in Garry's small herd near Keith, Moray.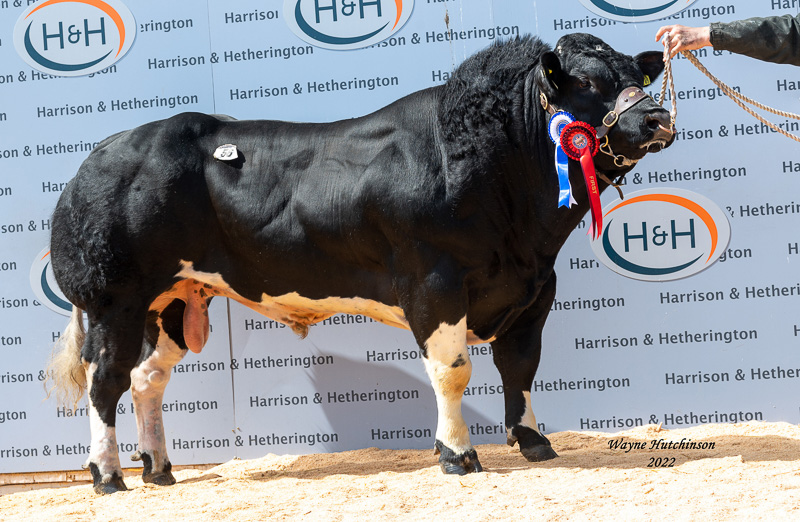 Solway View Popeye - Res Intermediate Champion - 10,500gns
Matching that 10,500gns was the dearest bull from Kevin Watret's Solway View herd, from Annan, Dumfriesshire, which also produced the top three priced females. His Solway View Popeye, by Dodou De St Remacle and out of the Tweeddale Ironman daughter, Solway View Misty, heads to a new home near Echt, Westhill, Aberdeenshire, with JS Youngson. This 23-month-old lifted the Reserve Intermediate ticket on the Friday.
A busy day for Graham Morgan and his team all the way from Tillington, Herefordshire, who had a string of 14 bulls forward, paid off with two at 10,000gns and another at 9000gns.

Almeley Pepe - 10,000gns
First through the ring at 10,000gns was the second prize winner, Almeley Pepe, which heads to Aucheneck Estates, Killearn, Stirlingshire. This 25-month-old's pedigree features Pinnacle Hero on to Almeley Honeysuckle, a Drybarrows Cawdale daughter.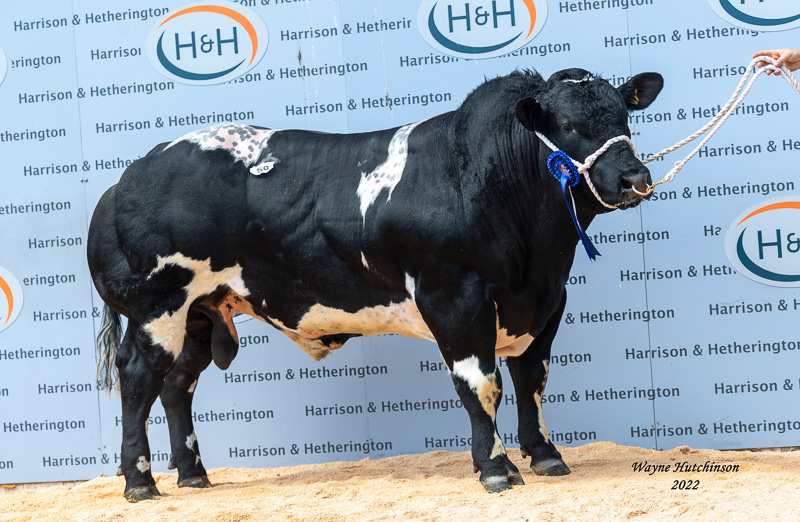 Almeley Powershift - 10,000gns
Another blue ticket holder, Almeley Powershift, sold to the Harryman family at Newlands, Keswick, Cumbria, for 10,000gns. This two-year-old offers some different breeding being by Empire D'Ochain and out of Almeley Kiala, herself by the home-bred Almeley Arlequin.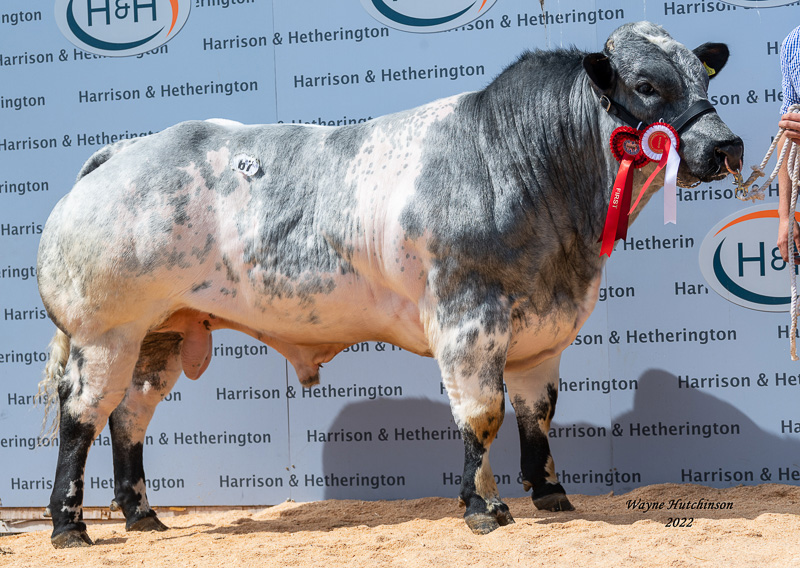 Almeley Percy - Intermediate Champion - 9000gns
The 9000gns bull from the Morgan family was their Intermediate Champion, the 22-month-old Almeley Percy, whose pedigree features similar breeding to Pepe, being by Drybarrows Cawdale and out of the Pinnacle Hero-sired Almeley Lola. He was knocked down to Owen Watkins, Hay on Wye, Hereford.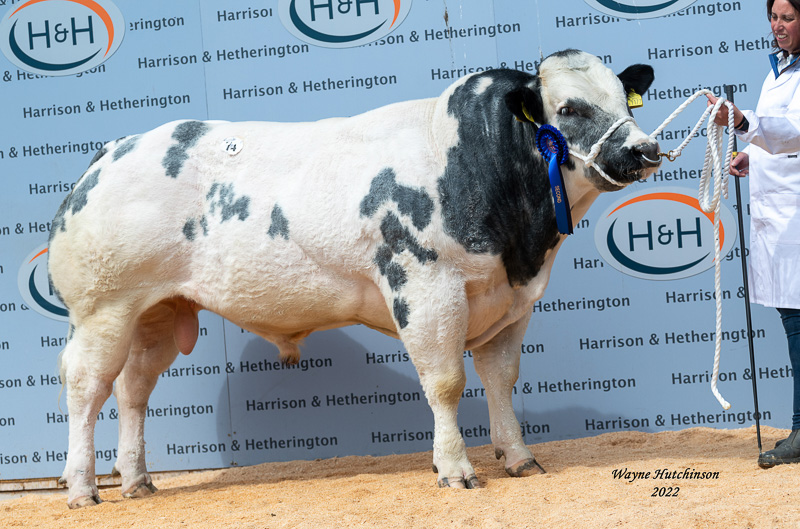 Warehams Penguin - 10,000gns
A further three bulls sold for 10,000gns apiece, all of which came from the junior section and the first of these was Warehams Penguin from Jason and Sarah Wareham, Broadoak, Heathfield. Born in July, 2020, this son of Gitan Du Pti't Mayeur sold down to Wales with the Howells family, near Pentrecwrt, Llandysul. This ET-bred bull and second prize winner is out of the Serieux De Fooz daughter, Widewath Verona.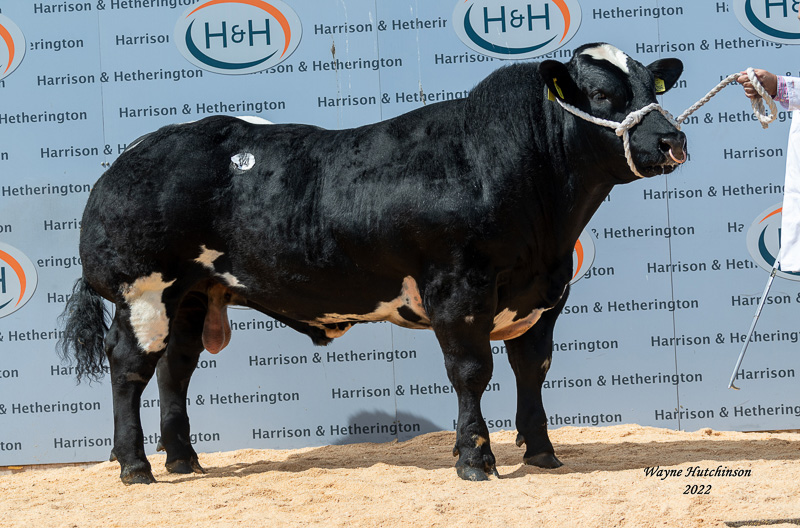 Clifftown Playboy - 10,000gns
W Ridley, Hesket Newmarket, Wigton, was behind the money of the next at 10,000gns, Dylan Townend's Clifftown Playboy from Broughton, Yorkshire. Another embryo, this time born in September, 2020, this Dodou De St Remacle son is bred from Clifftown Ladyluck, a Tweeddale Ebony daughter.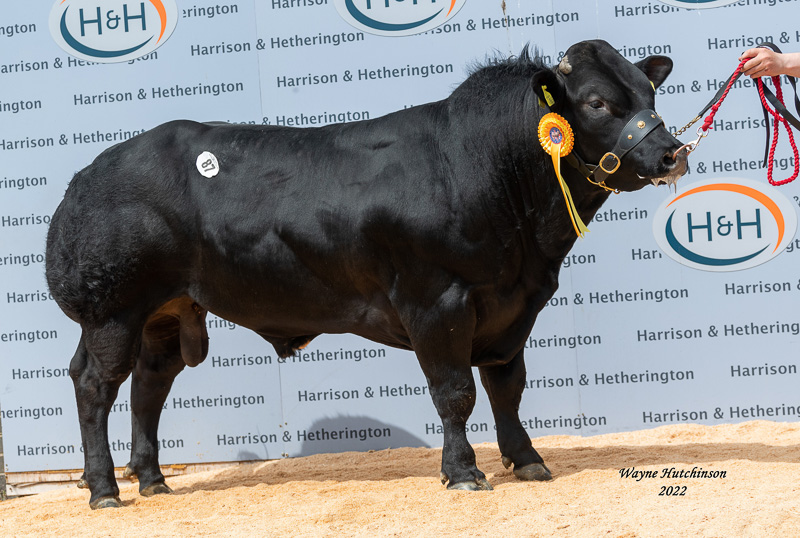 Abington Powerhouse - 10,000gns
The final bull to break the five-figure barrier when knocked down for 10,000gns to WN Lindsay, Kirriemuir, Angus, was Ian McGarva's Rocco de la Hasse-sired embryo, Abington Powerhouse. Born in October, 2020, his dam is the Tenace De La Praule daughter, Abington Monica, from the herd near Biggar.
Following on at 9000gns was Geraint Williams' first prize winner, Dragon Blues Panda, a two-year-old Tweeddale Hebony son from Llanwnnen, Lampeter. Bred out of Dragon Blues Lona, by Dragon Blues Ian, he heads back down to Wales with J and N Farming, Cwmyoy, Abergavenny.
Mark and Elaine Hartley paid 8500gns to take Stewart Gill's second prize winner, Hallfield Panther, home to their Pendle herd near Roughlee, Nelson. Born in October, 2020, out of the Trencrom Ka Ching-sired Hallfield Misty from the herd at Dacre, Harrogate, his sire is Greystone Messi.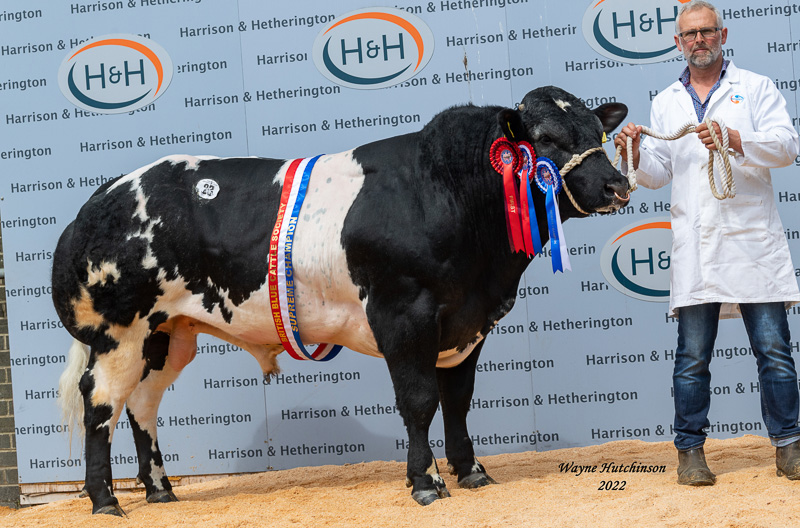 Valley Paolo - Junior and Overall Champion - 7800gns
Richard Carruthers' Junior and Male Champion, Valley Paolo, from Brampton, Penrith, was next in the trade stakes at 7800gns. Marking 30 odd years since Richard last won a Championship at Carlisle, Paulo is by Valley Limited Edition and out of the Kilowatt D'Ochain daughter, Valley Myrtle. Forking out the cash for this 20-month-old were C & R Metcalf, Barningham, Richmond.
Females
A cracking run of heifers from Kevin Watret's Solway View herd led the way in the female section, peaking at 16,000gns, 15,000gns and 13,000gns, with an embryo heifer calf also making 7500gns.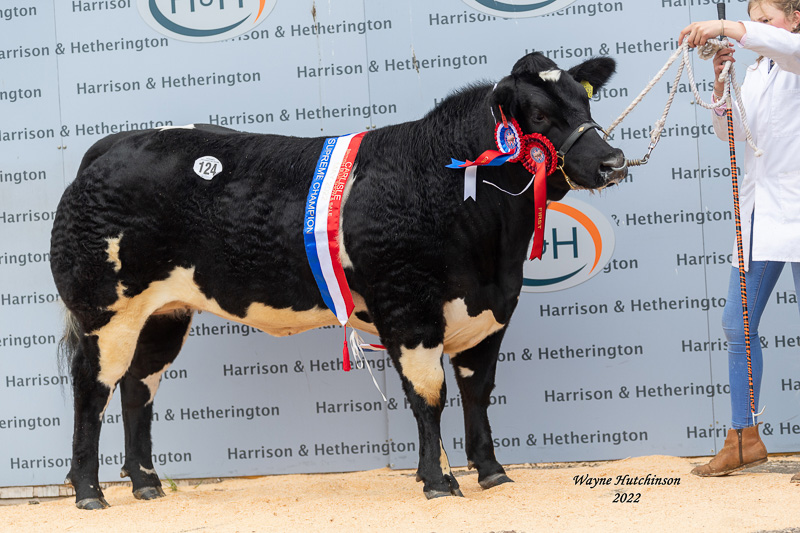 Solway View Rosie - Female and Overall Champion - 16,000gns
Dearest at 16,000gns was the Female and Supreme Champion from the Show Winners and David Allen-sponsored pre-sale show, Solway View Rosie, as judged by Ian Wainwright of the Todhall herd near Cupar, Fife. A black and white Tweeddale Ironman daughter that has already made her mark in the show ring, standing Female Champion and Reserve Supreme at the Borderway Agri-Expo last October. The 16-month-old Rosie is out of one of the best breeding cows in the herd, the Solway View Firecracker-sired Solway View Katie, making her a full sister to bulls at 12,000gns and heifers at 10,000gns.
The 16,000gns sale of Rosie resulted in Kevin once again taking home the Border Club Special Trophy for the highest priced animal owned by a member of the Club.
Rosie was one of five heifers bought by Kevin and Sonya Fletcher, of the newly established Coul Blues herd near Laggan, Perthshire, who bought the 27,000gns Solway View Odin last year to put over Highlanders and were so impressed with his offspring they decided to invest in pedigree females and bought five on the day.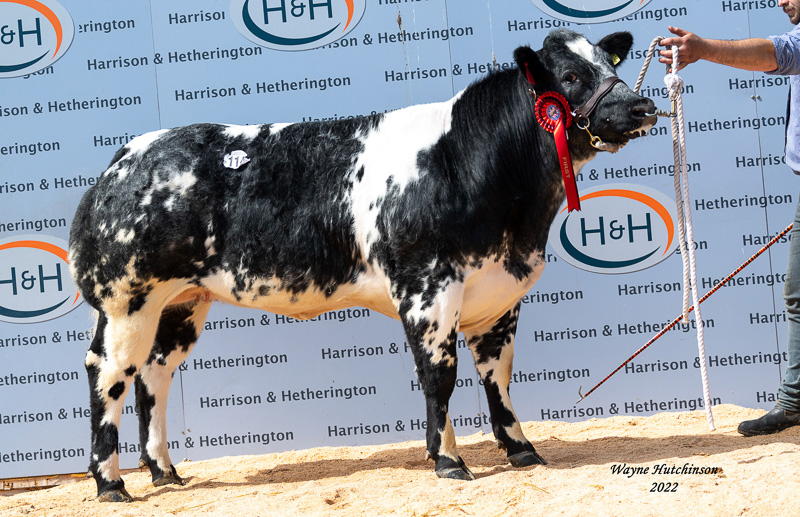 Solway View Pixie - 15,000gns
A fan of the Solway View heifers for their shape and style, the Fletchers paid 15,000gns for Solway View Pixie, another out of Solway View Katie. This 19-month-old blue and white heifer by Bedgebury Kent won her class the previous day.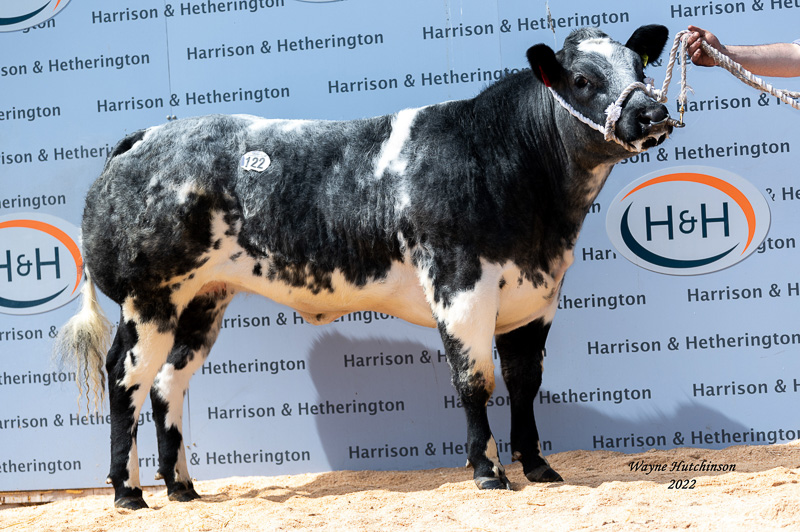 Solway View Ribbon - 13,000gns
Hitting the 13,000gns mark was the 15-month-old Solway View Ribbon, again by Bedgebury Kent but this time out of the Tweeddale Ironman daughter, Solway View Majestic. She caught the eye of Sheila Mason and Caroline Brown and heads to Clapham, Lancaster.
Paying 7500gns for Solway View Rihanna and her recipient dam was Messrs Barrow, Mealsgate, Wigton. Born in November, the Empire D'Ochain-sired Rihanna is out of the same cow as the 27,000gns Odin in the shape of Solway View Kesha, a Solway View Firecracker daughter.
Dylan Townend was back in the money when his first prize Clifftown Rebel, a September-born embryo by Magloire De Fontena, sold to Brandon Acton, Hawes. She is also out of the Tweeddale Ebony-sired Clifftown Ladyluck that bred Dylan's 10,000gns Clifftown Playboy sold earlier in the day.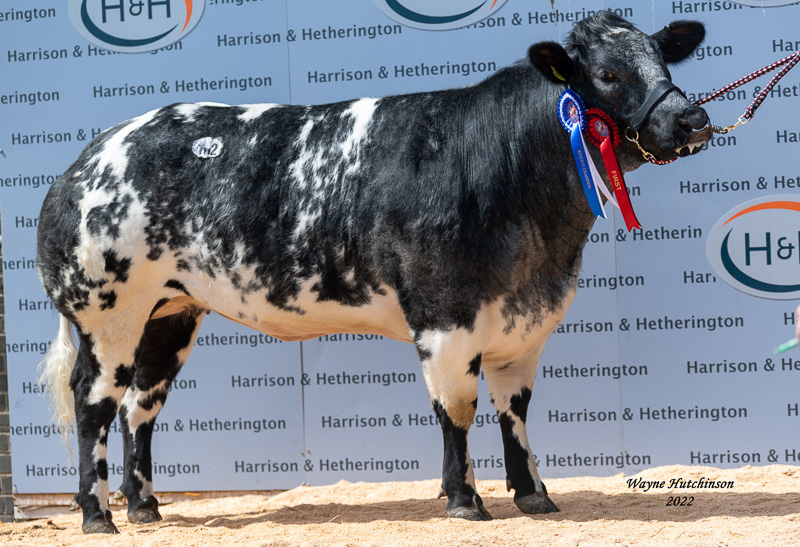 Trencom Pick n Moix - Res Female Champion - 6000gns
Next best at 6000gns when sold to Coul Blues was Gail Ellis' Reserve Female Champion all the way from Lelant, St Ives. Trencrom Pick 'n' Mix, a 26-month-old dark roan heifer, has a pedigree packed full of longevity, being by Coolbanagher Ivor and out of Trecrom Goovy Chick, a New Close Colonel daughter.
Averages: 19 senior bulls, £6737; 17 intermediate bulls, £6084; 20 junior bulls, £5891; overall, 56 bulls, £6236 (compared to 19 x senior, £9699; 44 x junior, 6646; overall, 63 x £7567 in 2021). One in-calf heifer, £4410; 18 senior heifers, £5670; 15 junior heifers, £4578; two embryo heifer calves, £5618; overall, 36 females, £5177 (39 x £4668).
Auctioneers: Harrison & Hetherington