Border British Blue Herd Competition 2022
The competition was open to all fully paid up members residing within the Border British Blue Club area. The herds were split into two categories (small and large herds). Large herd was a herd that registers more than 5 calves a year and small herd is a herd that registers less than 5 calves a year into the British Blue herd book.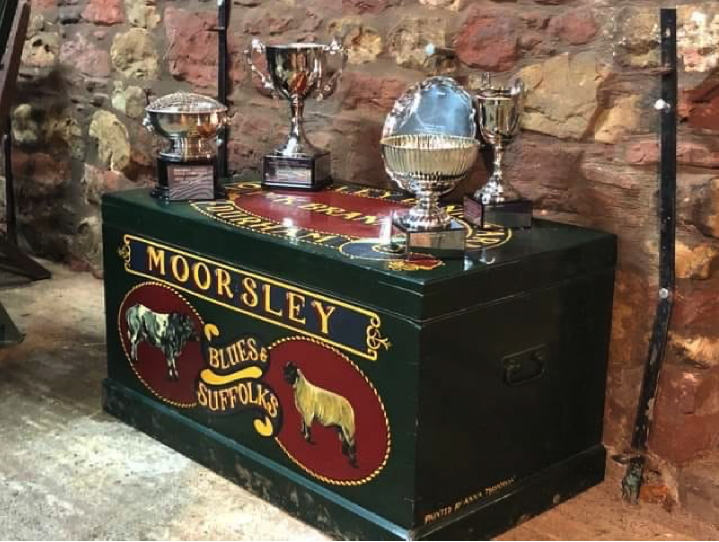 The Judge Andrew Haste (Stoneleigh) had the very difficult task of judging the event. The small herd was won by Paul & Katie Brannen (Moorsley). The winner of the large herd went to Blair & Shona Comrie (Stonebryes). The Moorsley herd went on to win the Overall Herd Competition.
The Border Club would like to thank everyone who helped make the Herd Competition a great success.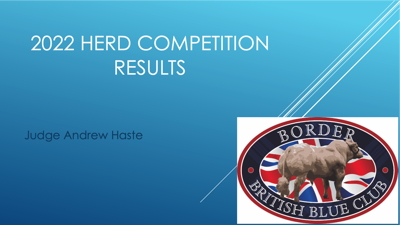 click here for pictures & more info
Class prize winners were as follows: -
BEST COW in-milk to receive David Allen Plaque:
Cow in-milk
Large Herd
1st    Stonebyres Nina (Blair & Shona Comrie)
2nd   Solway View Nia (Kevin Watret)
3rd    Kelowna Krystal (Steve & Claire Pattinson)
Small Herd
1st     Moorsley January (Paul & Katie Brannen)
2nd   Blackstane Little Princess (Kelly Blackwood & Duncan Davidson)
3rd    Netherton Ofilia (J Hyslop & Sons)
OVERALL BEST COW IN-MILK to receive David Allen Plaque:
Moorsley January (Paul & Katie Brannen)
Dry Cow
Large Herd
1st    Solway View Kesha (Kevin Watret)
2nd   Maidenlands Marbella (Dean Saunders)
3rd    Stonebyres Jill (Blair & Shona Comrie)
Small Herd
1st     Croftends Mojito (JE Bellas & Son)
2nd    Abington Monica (Ian McGarva)
3rd    Criffel View Poppy (D & L Watret)
OVERALL BEST DRY COW: Solway View Kesha (Kevin Watret)
BEST HEIFER 12 – 30 months to receive Kelowna Plaque:
Large Herd
1st    Stonebyres Roxy (Blair & Shona Comrie)
2nd   Brennand Rosie (JC Walker & Son)
3rd    Top Side Phe Phe (Ross & Elaine Pattinson)
Small Herd
1st     Blackstane Royal (Kelly Blackwood & Duncan Davidson)
2nd   Abington Roxanne (Ian McGarva)
3rd    Moorsley Peggy (Paul & Katie Brannen)
OVERALL BEST HEIFER 12 – 30 months to receive Kelowna Plaque: Stonebyres Roxy (Blair & Shona Comrie)
Most Promosing Heifer under 12 months to receive Total Signs Plaque:
Large Herd
1st    Solway View Rhubarb (Kevin Watret)
2nd   Brennand Roxy (JC Walker & Son)
3rd    Maidenlands Red Rose (Dean Saunders)
Small Herd
1st     Downbyrigg Rosie (Neil & Helen Forrester)
2nd   Moorsley Sherry (Paul & Katie Brannen)
3rd    Netherton Star (J Hyslop & Sons)
Overall Most Promosing Heifer under 12 months to receive Total Signs Plaque: Solway View Rhubarb (Kevin Watret)
BEST BULL to receive Neil Graham & Co Plaque:
Large Herd
1st    Stonebyres Ninja (Blair & Shona Comrie)
2nd     Trent Valley Knight Rider (Chall Parsons)
3rd    Top Side Prince Phillip (Ross & Elaine Pattinson)
Small Herd
1st    Abington Nitro (Ian McGarva)
2nd     Croftends Iceman (JE Bellas & Son)
3rd     Almeley Kasper (J Hyslop & Sons)
OVERALL BEST BULL to receive Neil Graham & Co Plaque: Abington Nitro (Ian McGarva)
BEST BULL 12 – 30 months to receive Oaktree British Blues Plaque:
Large Herd
1st    Jaygar Phocus (G & H Whalley)
2nd   Stonebyres Pathos (Blair & Shona Comrie)
3rd    Littlebank Polo (HR & WJ Maudsley)
Small Herd
1st     Netherton Rocketman (J Hyslop & Sons)
2nd   Abington Pablo (Ian McGarva)
3rd    Moorsley Ringo (Paul & Katie Brannen)
OVERALL BEST BULL 12 – 30 months to receive Oaktree British Blues Plaque: Jaygar Phocus (G & H Whalley)
Most Promising Bull under 12 months to receive Harrison & Hetherington Ltd Plaque:
Large Herd
1st    Solway View Sandy (Kevin Watret)
2nd   Maidenlands Ranger (Dean Saunders)
3rd    Littlebank Sid (HR & WJ Maudsley)
Small Herd
1st     Downbyrigg Rocky (Neil & Helen Forrester)
2nd   Blackstane Sylvester (Kelly Blackwood & Duncan Davidson)
3rd    Topgun Splash (Ali Jackson)
Overall Most Promising Bull under 12 months to receive Harrison & Hetherington Ltd Plaque: Solway View Sandy (Kevin Watret)
BEST SMALL HERD to receive Little's Butchers Plaque:
1st    Moorsley Herd (Paul & Katie Brannen)
2nd   Croftends Herd (JE Bellas & Son)   
BEST LARGE HERD to receive Highland Drover Plaque:
1st    Stonebyres Herd (Blair & Shona Comrie)
2nd   Solway View Herd (Kevin Watret)
OVERALL BEST HERD to receive Brian Wheatley Plaque:
Moorsley Herd (Paul & Katie Brannen)
The animal that the Judge would most like to take home:
Solway View Rhubarb (Kevin Watret)