Special January Show & Sale
HARELAW HEIFER IS THE STAR OF THE SHOW AT THE BRITISH BLUE SALE AT CARLISLE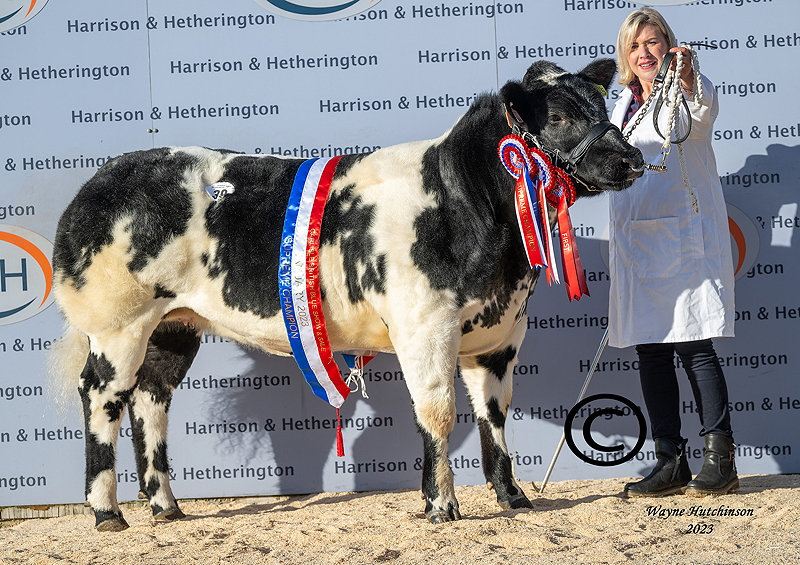 A young heifer certainly proved to be the star attraction at the British Blue Cattle Society's January offering at Harrison and Hetherington's Borderway centre on Friday, 20 January, when she not only claimed the Female and Supreme Championship tickets but also the top price and a new junior female record price of 23,000gns.
At a sale where seven heifers cashed in to average £6930 and 20 bulls levelled at £6521, it was animals displaying length, growth and style that were in demand and none more so than Jean Mackay's Harelaw Star, a yearling heifer from the three-cow herd based near Barrhead, Glasgow. The favourite heifer bred to date by Jean and her husband, David Parker, this Henlli Wishmaster daughter has already had the star appeal in the winter show ring, standing Reserve at LiveScot where she was also part of the winning Inter-breed Pairs team as well as winning red tickets and featuring in the Championship line-ups at the Borderway Agri-Expo and Stars of the Future.
"She attracted a lot of attention from potential buyers from all directions – Ireland, Wales, England and of course, Scotland – but I had no idea where she would be heading prior to the sale," commented Jean, still quite in shock of her achievement but a long-time breeder of pedigree Blues having bought her first in 2010.
"It was after the back-end calf shows the interest kept coming and she was proving to be the Star I named her as she was definitely a standout from the minute she was born – so full of style and a right lady! She stood out in the field as well as at the shows," added Jean.
This correct, stylish heifer, tipped for the 2023 show circuit, is bred from a previous show female, the Kersey Geronimo-sired Woodend Leonna which was bought in 2017 and is now proving to be a great flush cow.
Star was initially tapped out as Champion by Jonathan Crowther, of the Making Place Herd near Soyland, Sowerby Bridge, but it was a show calf producer from the North-east of Scotland, Blair Duffton, that paid the 23,000gns price tag having first seen her at on the winter show circuit.
"I spotted her at LiveScot and thought she was perfection so said if Jean were ever sell I would buy her but never thought she would actually come up for sale," said Blair who intends to show her this summer before flushing her as she matures.
"Even though I buy lots of Blue cross cattle for showing I'm not experienced in pedigree Blues but I thought the heifer was immaculate – one look and you love her. She's very sweet, correct and stylish with no Blue trait faults and is also well balanced with nice markings giving her the most attractive presence.
"She's definitely won my heart and many others so didn't realise she would make as much but when you see a special beast there's no point in falling short. She's such a genuine animal off a lovely genuine family which also encouraged me to buy her," added Blair.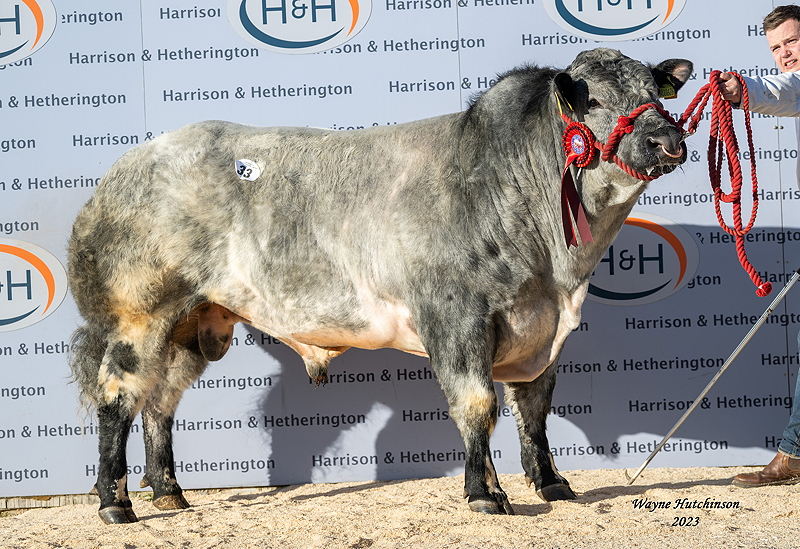 It was a good day too for the Paterson family – Robert, Maimie, and son, Rab – from near Dunblane when they sold three bulls to average £11,375, with their top price of 15,500gns paid by Messrs Coates, Stainforth Settle, for Auchenlay Ranger which will go to work in their pedigree Greystone Herd. This first prize winner from the pre-sale show is by the 2018 Royal Highland Show Champion, Sandyvale Jagerbomb, and naturally born in May, 2021, out of Auchenlay Jen, herself a Tamhorn Ethan daughter.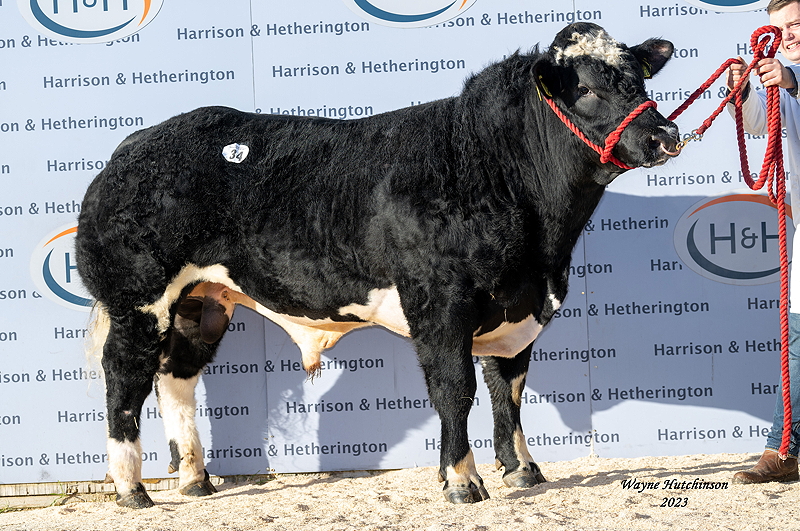 The Patersons saw their very next lot in, another Jagerbomb son in the shape of Auchenlay Rolo achieve the next best price of 12,000gns when knocked down to D Whiteford, Scremerston, Berwick. This black and white lad is out of the Auchenlay Karma-bred Auchenlay Myla.
One more broke the five-figure barrier when the Reserve Male Champion, Ross and Elaine Pattinson's Top Side Richy, realised 10,000gns for the herd from Low Row, Brampton. His dam, the Strathearn Carvalho-sired Top Side Isla, requires little introduction having won many Championships the length and breadth of the country, while his sire is the Dafydd son, Fleuron De Maffe. Richy himself has picked up a number of tickets during the show season and the 22-month-old found a new home near Bishopdale, Leyburn, with BR and S Fawcett.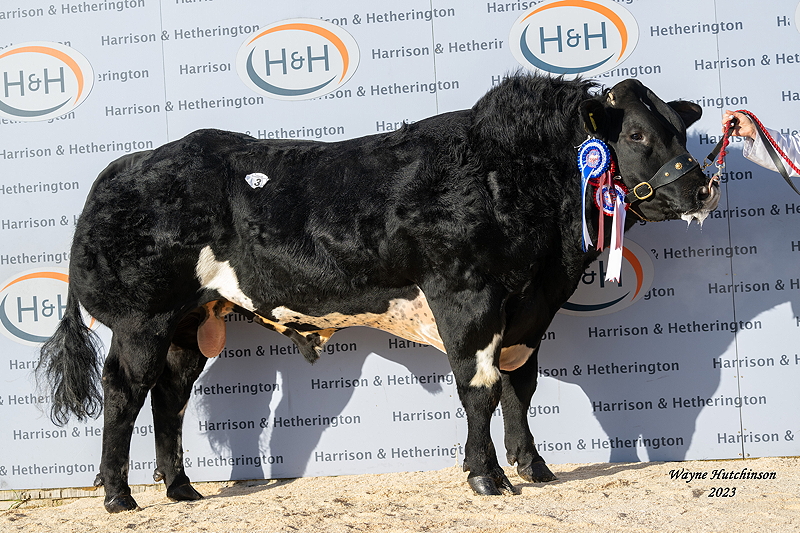 Two sold for 9000gns apiece including the Male and Reserve Supreme Champion, Abington Pablo from Ian McGarva, from near Biggar, which also landed the Junior and Reserve Male tickets at the Royal Highland Show last June. This September, 2020-born son of Rocco De La Hasse caught the eye of Ronnie Downie and heads north to Crathie, Ballater. His dam is Abington Monica, a Tenace De La Praule daughter.
Matching that 9000gns just two lots later was Brennand Paddy from Jeff and Margaret Walker, Dunsop Bridge, Clitheroe. Another that did well on the summer show circuit, this 25-month-old Bringlee Volkawagon son is out of the Cromwell Fendt daughter, Brennand Jenny, and sold to JD Yeats, Coanwood, Haltwhistle.
LEADING awards:
Bulls
Class One
1 Abington Pablo I McGarva
2 Brennand Paddy JC Walker & Son
3 Top Side Rossco R & E Pattinson
Class Two
1 Almeley Rees GL & KS Morgan
2 Top Side Rocky R & E Pattinson
3 Stomebyres Rembrandt A & CS Comrie
Class Three
1 Top Side Richy R & E Pattinson
2 Moorsley Ringo P & K Brannen
3 Almeley Rank-One GL & KS Morgan
Class Four
1 Auchenlay Ranger R & M Paterson
2 Maidenlands Ram On D Saunders
3 Auchenlay Ryan R & M Paterson
Heifers
Class Five
1 Harelaw Star J Mackay
2 Top Side Robyn R & E Pattinson
3 Springfield Renee AJ & DA Wilkinson
Class Six
1 Sunnybank Spice Girl HC Jewitt
2 Brennand Sherry JC Walker & Son
3 Sunnybank Smartie Pants HC Jewitt
Male Champion Abington Pablo I McGarva
Reserve Male Top Side Richy R & E Pattinson
Female Champion Harelaw Star J Mackay
Reserve Female Sunnybank Spicegirl H Jewitt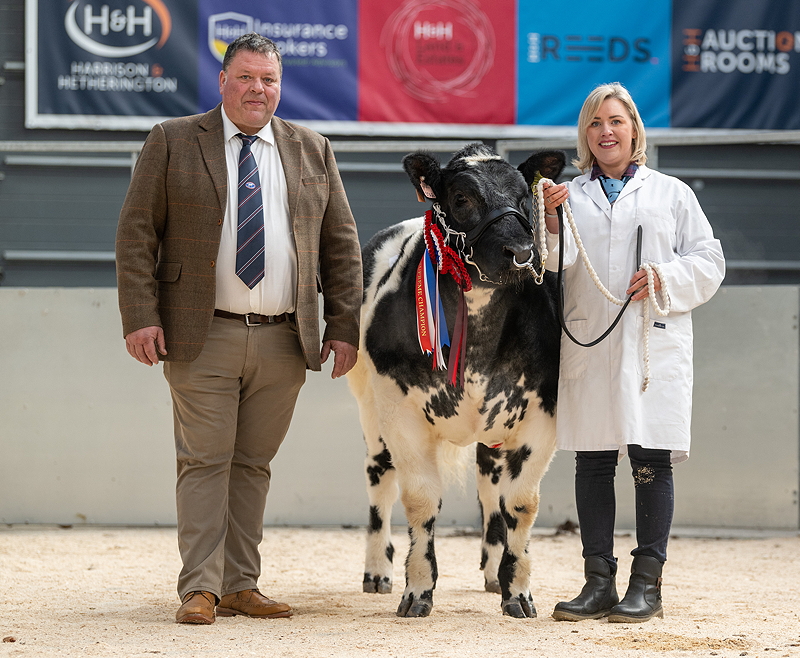 Auctioneers: Harrison & Hetherington